Asian Lantern
Featuring a hammered sterling ring, these post-style earrings are delicate enough to feel lightweight, yet bold enough to make a statement. Red glass beads accent the translucent polymer drop.
Price: $160.00
[wp_cart:Asian Lantern:price:160.00:end]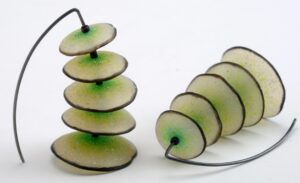 Eucalyptus
These unique earrings curve toward the face and make an attractive statement without being overly showy. 1 ¾ – 2 inches long, colors: celadon, rust red, or green.
Price: $140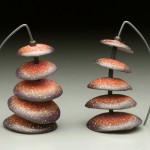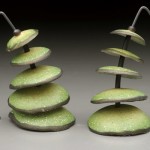 [wp_cart:Eucalyptus:price:140.00:var1[Colour|celadon|rust red|green]:end]
Little Weeds
Featuring muted tones that easily match your winter wardrobe. Polymer drop on oxidized silver wire with smooth glass dangles. 

2 ½ inches long
Price: $120.00
[wp_cart:Little Weeds:price:120.00:end]
Organic Cup
These post-style earrings truly shine with polished polymer clay disks and oxidized sterling accents. Thin and lightweight, these earrings will easily become a favorite pair in your jewelry box!

2 ⅛ long
Price: $110.00
[wp_cart:Organic Cup:price:110.00:end]
Crossroads
Don't be fooled: these thin post-style polymer disk earrings are deceptively lightweight.

2 inches in diameter

Price: $98
[wp_cart:Crossroads:price:98.00:var1[Colour|red|grey]:end]
Winter Dot Dangles
Surprisingly lightweight, these funky earrings have three flat glass beads dangling below that sway as you move. Available in Gray and White, these earrings are the just the right amount of artistic style to add to any look.
Only Gray Remaining.
2 ¼ inches long
Price: $120
[wp_cart:Winter Dot Dangles:price:120.00:var1[Colour|gray]:end]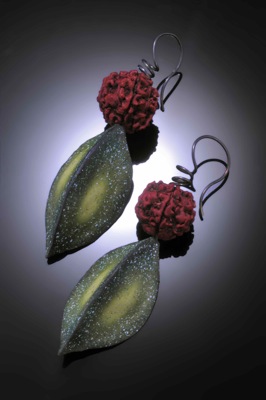 Seed & Pod
Unusually artistic lightweight earrings flatter your face and style.

2 ¾ inches long x ¾ inches wide

Price: $120
[wp_cart:Seed & Pod:price:120.00:end]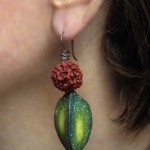 Kinetic Fruit
These charming earrings have four dangles that swing and sway as you move. They feature an earring wire catch to ensure they stay put as you go.
Currently a best-selling item at Kathleen's shows.
3 ¼ inches long in blue or red; or 2 ¾ only in red

Price: $160
[wp_cart:Kinetic Fruit:price:160.00:var1[Colour|red|blue]:end]
Steel Blossom Drop
Available in four color combinations these earrings make a fun accessory for any outfit. Made of polymer clay and steel cable with sterling silver hooks

Only One Left!
3 ¼ inches long

Price: $120
[wp_cart:Steel Blossom Drop:price:120.00:var1[Colour|rust red base/ dark gray blossom]:end]
Anemone
Classic elegance with a fun accent, these jade-looking earrings are surprisingly light-weight. They have a sterling silver post and are available in two shades.

Only Lime Green Remain!
3 inches long

Price: $100
[wp_cart:Anemone:price:100.00:var1[Colour|lime green]:end]